The Megaron Athens International Conference Centre (M.A.I.C.C.) is one of the finest and most technologically advanced conference venues in Europe. Situated in the city centre, yet surrounded by its own extensive landscaped gardens, Megaron offers a stunning environment, exceptional aesthetics, cutting edge technology and unrivalled client service. MAICC has hosted some of the most important congresses in Greece.
The Megaron Athens International Congress Centre was conceived and built with great respect for the environment and green urban planning. For whilst the original building faces straight onto one of Athens' major avenues, the international congress centre has been incorporated into the park right next to it with such skill that it in no way infringes on it.
The technology and stage systems incorporated into the halls are at the forefront of technology, whilst all sound and audio visual systems are connected to the in house broadcast standard recording studio which enables sound and video recording in broadcast format.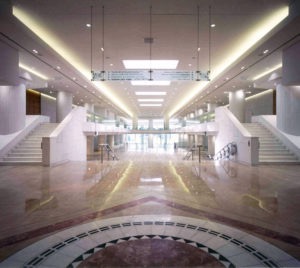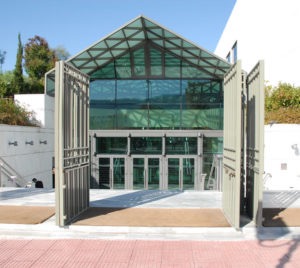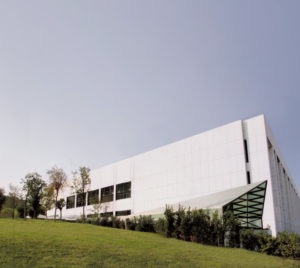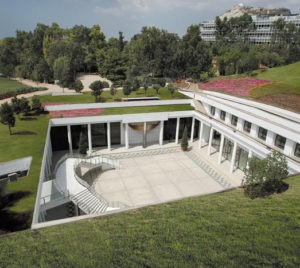 Megaron Athens International Conference Centre
MAICC (Conference Venue) is situated in the heart of Athens and is easily accessible by metro, bus, and cable trolley bus. It is also located within walking distance from a variety of hotels of all-stars and standards. Getting to and from the city centre or other locations is quite easy:
3-5 min. from the city centre
30 min. from the Athens International Airport (www.aia.gr)
By Metro: There is a metro station right next to the main entrance of MAICC (Conference Venue) called "Megaron Moussikis" from which one can access it from both the airport and city centre using metro line 3 (the Blue Line).
Please see below the current map of Athens  public transportation map for your convenience.
By Bus: The following buses, express buses and cable trolley buses all pass by near the MAICC (Conference Venue):
Buses: 450, 550, 601, 603

Express buses: X95 (direct airport line), A5, E6, E7, X14

Cable trolley buses: 3, 7, 8, 13
For more information regarding the public transportation network in Athens please visit: www.oasa.gr
From the airport: Athens International Airport "Eleftherios Venizelos" is located 33 km southeast of Athens and accommodates all international and domestic flights. The airport is easily accessible from MAICC (Conference Venue) and the city centre via motorway, express bus or metro.
An average journey by taxi from the airport to the city centre takes approximately 40-50 minutes, depending on traffic and costs €38 (flat fare between 05.00-00.00h and €50 between 00.00-05.00h). The express bus line X95 (towards the direction of Syntagma) travels directly to Athens city centre every 30 minutes and costs €6 per ticket.
The metro line 3 (Blue Line) runs every 30 minutes from the airport. The trip to the city centre is 40 minutes and costs €10 per ticket.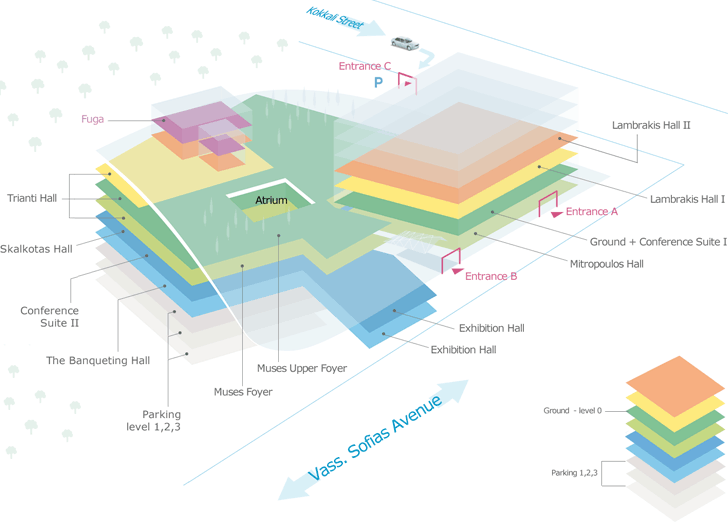 You can download the Venue Floorplans here.